Special English and Leisure Packages - Español
A great idea for an adult or a family holiday, improve your English with formal lessons in the morning then enjoy your chosen activity in the afternoon. Lessons and activities can be adapted for the beginner, an improver or advanced level.

English lessons are charged depending on the type of tuition you choose and activities are charged separately, rate depends on number of clients and time of year, please ask for an estimate.

Options include:
English and Golf
English and Fishing - sea or river fishing
English and Sailing
English and Traditional Music
English and Bird watching
English and Surfing
English and Hill Walking
English and Horse Riding
English and Diving
English and Pottery

and many more ......

Paquettes de Ingles y ocio e Ingles en familia - Español

For more information or help email: Rosscarbery English School.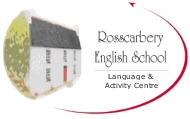 Learn English in Ireland
English language lessons


Afternoon activities


Accomodation with host family