School Groups English and Activity Programme
Español
Combine formal English lessons with an exciting and fun, action packed activity programme in a safe and friendly environment.


| | |
| --- | --- |
| School Group in morning class | Our School Groups English and Activity Programmes take place during Easter and June, July and August, and are specifically aimed at groups of 10 or more students. |

The Programme is 'full immersion' which means that the students attend English lessons each morning, followed by sporting, cultural and creative activities each afternoon. Staying with an Irish host family the only language spoken at all times is English. These programmes are aimed at students from 12 - 17 years of age and are fantastic courses to help students improve all aspects of their English language skills and prepare for exams.


15 hours formal English lessons (9.30am - 12.40pm Monday to Friday)
Refreshments and a snack at break time (11am - 11.10am)
A fun and action packed Activity Programme each afternoon (1.30pm - 4.30pm Monday to Friday)
A full day excursion on Saturday
Private coach transport to and from all activities
Entrance fees to all activity and sport centres
Equipment hire for all activites
Private coach transfers on arrival and departure (Cork International Airport)
Full board - host family accomodation
Transport to English lessons each morning
Collection by host family each afternoon after activity
Lesson notes and writing materials
End of programme graduation certificate and graduation party
We DO NOT charge any student registration or accomodation arrangement fees, so there are no hidden charges.


Our teachers are highly qualified and will ensure that classes are fun and interesting. Lesson content is always tailored to suit the specific English language needs and level of the students. Lessons include:
Level relevant grammar
Reading, writing and listening skills
Speaking and comprehension skills
Diaglogue
Idioms and phrasal verbs
Conversational and social English
Class projects on Irish traditions and local history
Kayaking and leisure boats on lagoon
Tennis and basketball
Hurling and Gaelic football (traditional Irish games)
Beach sports and hiking
Traditional Irish cookery classes (students can take home what they make!)
Mini Golf
Cinema visit
Activities are fully supervised with the students safety and enjoyment a priority. Because the Irish weather is so unpredictable, activities can vary depending on the weather conditions!


On Saturdays there is a full day trip which includes a visit to a historical site (Blarney castle/Charles Fort) followed by some shopping in Cork city. Students are accompanied on the excursion by leaders/supervisors.


Sunday is 'Family Day' which is very important for both the student and host family. Each student will spend the day relaxing with their host family and will be included in whatever the family has planned.


Students stay with carefully selected local families who have years of experience of hosting students and will make you feel relaxed from the moment you arrive. Irish people are very family oriented and you will be treated as a family member throughout your stay. You will have breakfast and the main evening meal with your family and you will be given a packed lunch to eat after morning lessons.

Accommodation is always of the highest standard and students will have their own bedroom. All our host families are specially chosen for their hospitality and will help you with your English in an informal environment. Our return students always ask to stay with the same families which is a testament to how good our host families are.

Evenings are spent with your host family, watching a movie, listening to music and chatting which means you get a chance to practice the English you have learned in class, in a relaxed, friendly setting.


Students require a European Health Insurance Card (available at no charge from your local health office). Adequate personal and luggage insurance is recommended.



Ingles para grupos escolares y programa de actividades Español

For prices and more information email: Rosscarbery English School.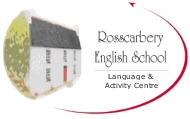 Learn English in Ireland
English language lessons


Afternoon activities


Accomodation with host family