Rosscarbery English School
Learn English in Ireland, at Rosscarbery English School. We are on the Wild Atlantic Way in beautiful coastal countryside of West Cork, Rosscarbery English School offers an excellent alternative to the bigger city schools, which cater for large numbers of foreign students. We are a specialised English Language Centre, and our aim is to provide individual attention, in a secure, relaxed environment.



homepage-images/large1.jpg

homepage-images/large2.jpg

homepage-images/large3.jpg

homepage-images/large4.jpg

homepage-images/large5.jpg

homepage-images/large6.jpg

homepage-images/large7.jpg

homepage-images/large8.jpg

homepage-images/large9.jpg

homepage-images/large10.jpg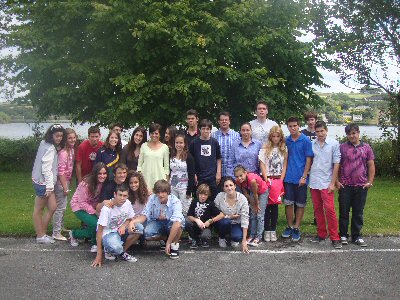 Course participants - July 2011

Rosscarbery English School runs English classes all year round, for all age groups, on a One-to-One, Two-to-One or Group (maximum 8 students) basis. Small classes guarantee individual attention, and courses can be designed to meet your exact requirements, whether you are just starting to learn English or want to improve your English skills for business or preparation for exams.

We specialise in providing courses for Au pairs, Corporate groups or individuals, where the client can choose to study English relevant to his/her business sector (Presentations, Meetings, Sales, Interviews, Negotiations).

We also offer English for Special Purposes (ESP), General English Courses and English with Leisure packages for clients who wish to combine English tuition with their favourite activity (such as Golf, Hill Walking, Surfing, Sailing, Fishing and there's many more....). If there is an activity you want to do, just let us know and we will put together a special package for you.

Activity and leisure time is considered an extension of formal tuition, where students are encouraged to use and practice what they learned in class. Because of the quality of teaching, and structure of activities, students find their English skills improve at a rapid pace.

We also provide Junior General English Language Programmes, where the students stay with Host families, have formal English classes in the morning, followed by activities in the afternoon. These are run One-to-One or Two-to-One all year round, and on a group basis during half-term, Easter and June, July and August. These are ideal English Language Courses for Exam Preparation. Families are welcome too: Rosscarbery English School has developed a special English Language Course for Families, where both adults and children join in the same classes, with the emphasis on General English and Social English Skills.

For more information or help in choosing which course is best for you Email: Rosscarbery English School.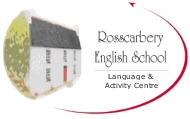 Learn English in Ireland
English language lessons


Afternoon activities


Accomodation with host family